Hello Darkness
Exhibition catalogue
"Darkness excerpts"
Text by Christiane M Finsen, curator
Graphic Design Pernille Kleinert
Photography Torben E. Meyer
Print Narayana Press
Copenhagen 2017, 64 pages, 32 illustrations, 18 x 25 cm, Softcover, English/Danish
ISBN 978-87-7669-723-5
---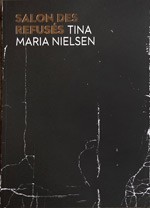 Salon des Refusés
​Exhibition catalogue
"What we store and Spiders from Mars" ​
Text ​by Kit Leunbach, curator
Graphic Design Pernille Kleinert
Photography Lior Zilberstein
Print Narayana Press

Copenhagen 2016, 67 pages, 37 illustrations, 22,5 x 31 cm, Softcover, English/Danish
ISBN 978-87-7669-068-7
---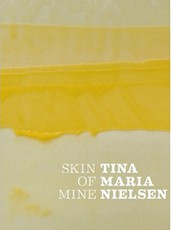 Skin of mine
​Exhibition catalogue
Foreword by Anna Krogh, curator
"By scrathing the surface, we uncover something else" by Maria Kjær Themsen, MA Comparative Literature
"Like a Rhinestone Cowboy. Things, titles and intimacy in selected works by Tina Maria Nielsen" by Lise Skytte Jakobsen, MA and PhD in Art History
Graphic Design: Pernille Kleinert
Photography: Anders Sune berg, Erling Lykke Jeppesen
Odense 2013, 95 pages, 48 illustrations, 21 x 27 cm, Softcover, English/Danish
ISBN 978-3-86895-287-2

---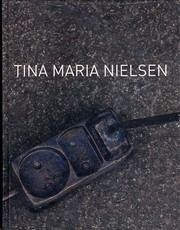 Tina Maria Nielsen
The book offers a thorough retrospective view of Tina Maria Nielsen's work during the last 10 years. The monography is published by hurricane and contains, in addition to documentary photographs and snapshots, a text "The room, the work/space and the lot" by MA in literature and Art History Mai Misfeldt, an essay "Given and ready" by artist Thorgej Sten Hansen, a new poem by poet Thomas Boberg and an interview "In a place between a deja-vu and a black out" by MA in rhetoric and art history Barbara Læssøe Stephensen.
Graphic Design Pernille Kleinert
Photography: Erling Lykke Jeppesen, Iben Bølling Kaufmann, Anders Sune Berg.
Copenhagen 2009. 120 pages, illustrated, 21 x 27,50 cm, Hard cover, Danish/English
ISBN 978-87-7669-022-9
---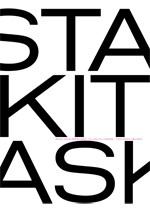 Exhibition catalogue
StativStakitKasket. Århus Kunstbygning, 2006
Text: Mai Misfeldt
Graphic design Morten Bak
Photographer Anders Sune berg
ISBN 87-991258-0-3
Artists: Ellen Hyllemose, Tina Maria Nielsen, Rikke Ravn Sørensen
---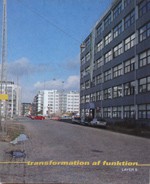 Layer 5 – Transformation af funktion(2005)

Texts:
Jørgen Carlo Larsen: DE NØDVENDIGE RUM
Rikke Ravn Sørensen: DE GÅR LANGS MED DISSE FLADER SOM DERES BLIK
LODDER SAMMEN (MED TAK TIL MARGUERITE DURAS)
.
Graphic design Pernille Kleinert

Artists:
Espen Brandt-Møller, Jørgen Fog, Søren Jensen, Karin Lind, Tina Maria Nielsen, Rikke
Ravn Sørensen
---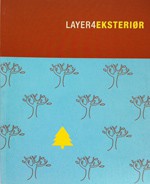 Texts:
Maria Finn: PLANTAGEN OG LOSSEPLADSEN
Rune Gade: HVAD SKAL KUNSTEN (I VIRKELIGHEDEN)?
.
Graphic design Pernille Kleinert

Artists:
Thomas Bang, Kerstin Bergendal, Camilla Berner, Jørgen Fog, Peter Frimand, Ellen
Hyllemose, Karin Lind, Karin Lorentzen, Tina Maria Nielsen, Stefan Nilsson, Finn
Reinbothe, Ane Mette Ruge, Rikke Ravn Sørensen, Ragna Wehding

---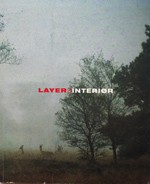 Layer 3 (2002)

Texts:
Rune Gade: INTERIØR (INDRE ANLIGGENDER, LAG PÅ LAG)
Malene Vest Hansen: INTERIØR – BEMÆRKNINGER OM (PRIVAT/OFFENTLIGE) RUM
Ane Mette Ruge: DET FORSTYRREDE RUM
Hans Peter Hagens: LAG PÅ LAG PÅ LAG
.
Graphic design Pernille Kleinert

Artists:
Ellen Hyllemose, Karin Lind, Tina Maria Nielsen, Rikke Ravn Sørensen, Ragna Wehding
---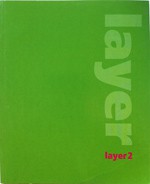 Texts:
Mai Misfeldt: ET MØDE BEGYNDER MED ET SPØRGSMÅL
Rune Gade: AT STÅ I BERØRING
Boris Boll-Johansen: DEN UKENDTE BILLEDHUGGERS PAPIRER
Britta Timm Knudsen: EN DIALOG I RUMMET
.
Grafic design Pernille Kleinert
Photographer Planet/Bent Ryberg
ISBN 87-987911-0-9
Artists:
Tina Maria Nielsen, Rikke Ravn Sørensen
---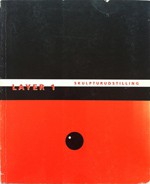 Layer 1 – skulpturudstilling (1996)

Texts:
Karsten R. S. Ifversen: I SAMTALE MED GEORG W. F. HEGEL
Morten Kyndrup: DEN ENSOMME SKULPTUR
Lars Kiel Berthelsen: SKULPTUREN FINDES IKKE!
Kristine Kern: NOGLE BETRAGTNINGER OVER BEGREBET: SKULPTUR
Rune Gade; HVORFOR SKULPTUREN ER STØDENDE

Graphic design by Pernille Kleinert

Artists:
Jesper Martinus Christensen, Ellen Hyllemose, Nynne Livbjerg, Karina Mosegård, Tina Maria Nielsen, Rikke Ravn Sørensen
---